Free Job Oriented Computer Training for Underprivileged/ Poor Students
An Initiative to Provide Equal Opportunities to Financially Weak Students
Training Mode:

Online/Offline
Training Place:

Village Gram- Panchayat/ Govt. Schools/GDJKSS Authorized Learning Centre(ALC)
Duration:

15 Days to 1 Month. (30 Hours/60 Hours)
Exam Mode:

Online in Smart Phone/Computer.
Certification By:

Gyandeep Institute of Information Technology for Training & Software Devlopment(GIITTSD).
Certificated Course and certificate:

BCC Digital Computer Certificate with QR Veryfication facility.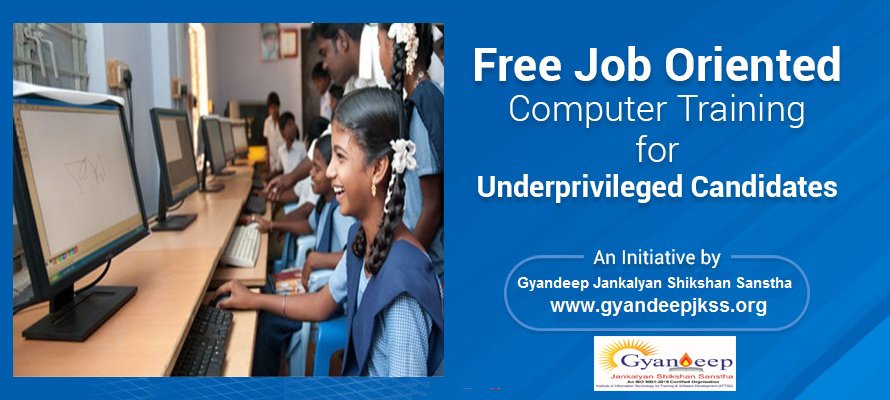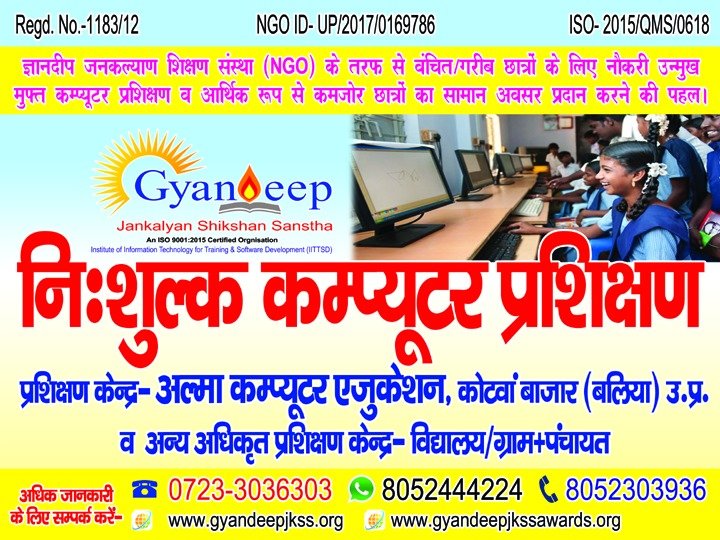 Youths are the future of a nation for an emerging country like
India, development of underprivileged youths is the key for the nation and their education is the cornerstone of this progress. Education is one of the main agents of change. Computer knowledge is a must as it is the need of an hour. We depend on the computers to help us complete tasks and to solve problems. Computers are used in numerous fields like business, pharmacy, music, education, engineering, transportation etc. as they help to ease any tasks, and speed up the work. It is of utmost importance that every individual should be a computer literate.
Keeping these important factors in mind, GDJKSS has launched few Certificate Courses for Underprivileged candidates only free Job Oriented Computer Training. Our institute is registered and approved from the relevant State and Central Government bodies and is an ISO Certified 9001:2015 for quality and management.
We are dedicated to bring a change in India by focusing on deprived and less fortunate people. It can be done by educating children with the belief that computer education is a pre-requisite for socio-economic change. GDJKSS, along with its education partners are working towards the goal to make sure that underprivileged children can avail free computer training in the field of Computer Fundamental, Ms Paint, Office, Internet, Multimedia, Graphic Design, Video Editing, and Basic Computer Concept (BCC) which can help them making a successful career.
Eligibility Criteria for Free Job Oriented Computer Courses
· Students within the age-group of 12-22 only are eligible for this course
· Students who are min. 5th pass out and eager to learn new concepts and technologies
· Only students who are underprivileged (financially weak) are eligible for this course
Courses Offered for Free in Computer Fundamental, Ms Paint, Office, Internet, Multimedia, Graphic Design, Video Editing, Basic Computer Concept (BCC).
Course I: Free Computer Course in Basic Computer Concept(BCC).
Free computer course in BCC includes training in Computer Concept, as well as programming languages often used in web design. It will teach students how to Control and Operate Computer System.
· Computer Fundamental
· Computer Hardware
· Computer Software
· Ms-Windows 7
· Ms-Paint,Notepad,Wordpad,Calc,Internet--
*Resume and Portfolio Development will be a part of all the courses
GDJKSS is furnishing professional job-oriented courses in various fields such as web design, graphic design, 3d animation, video editing, post production, architect interior designing etc. To know in depth about these programs please have a look at our all professional courses.
Discount Criteria:
· A quantitative and reasoning exam will be conducted. Depending upon the performance in the exam discount will be given.
· Discount can also be considered with the exam also if some one is from under privileged category.
Batch Schedule:
· Bi-monthly in a year
· New batches are starting soon, please visit our center asap.
· Classes will be conducted only on Mo-Sa for 1-2 hours
Registration Process:
· Registration fee@Rs.1000/-(1 Months) and Re-Examination fee@Rs.500/- needs to submit along with the following documents.
o self-attested copy of academic passing certificate of 5th -10th class.
o 1 passport size photograph for verification.
o UID(Aadhar Card) Photo Copy.
· Student needs to fill and submit a Declaration Form where s/he will declare about his/ her bad financial condition on record. On the basis of which admission decision will be made.
· If institute's management find you eligible for the course then you will receive a call, message, or email to start your course with us.
Note: Registration fee is non-refundable and non-transferable if you don't want to start your free course later.
Some important points to keep in mind:
· Batch will start bi-monthly e.g. January, March, May, July, September, and November every year
· Students can't join more than one course
· Max 20-25 students will be there in a batch
· Sessions will be conducted by Alumni or mentors of GDJKSS
· These courses are available only on Monday. To Satrday.
· These courses be joined in Online Mode/Offline Mode.
· Lab practice timings would be 02-07 pm from Monday to Saturday. On Sundays; students can practice after their sessions only
· Students will get course completion certificate also after the successful assessment only
· In case of absence for a longer time without any written information during the course; registration will be canceled automatically and paid fee would be null
· Institute is waving off the fee of training only but you need to pay charges for study material, lab maintenance, electricity, water, building, furniture etc.
· Fee once paid is strictly non-refundable at any case
How to Apply?
If you require any further information about our free computer training for underprivileged candidates, then please visit our center or contact our institute's admission counselor after 02 PM at 8052-444-224 , 8052-303-936 and Ph. 0723-3036303.
Other Courses :

ADCA,DCA,CCC,Tally ERP9,Typping,Internet...
Career Options:
Branch Head,Computer Teacher,Receptionist,Sales Officer, Other Employees, Graphic Designer, Logo Designer, Retouching Artist, Website Designer, HTML5 and CSS3 Developer, Responsive Website Professional, Video Editor, AutoCAD Professional, 2D and 3D Designer, Walkthrough Designer etc.
Please Visit Reg. Office / Corporate Office: Kotwa Narayanpur,Ballia(UP)-277501 / Mason, Govindpur,Bhanwarkol,Mohamdabad,Ghazipur(UP)-233231